Coaches Corner with Becky: WTF is Hungry Butt?
What the heck is a hungry butt and why do my coaches keep yelling that at me?! Well… maybe you know by now, but if you don't, I'll tell you: a hungry butt is a butt that is squeezed so tight it gives you a little wedgie. Your butt cheeks are literally eating your pants. So if you don't got a wedgie, you ain't tryin' hard enough.
You've probably noticed that we've done a lot more hollow body work and things stemming from the hollow body position ever since I attended that lovely gymnastics certification just a few short months ago. And whether I'm coaching your class or working out in your class, I'm probably yelling "knees together, feet together, butt tight!" Is that just because I went to a certification and got really excited about the hollow position? I mean, I am excited and it was an awesome certification but… no!
It's because I want you to be a better athlete.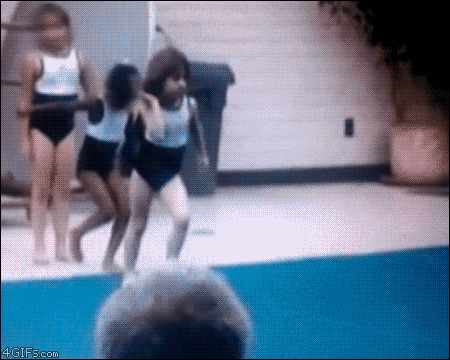 We're doing a lot of hollow body stuff because that creates tension everywhere in your body and requires that you use your core to its fullest potential. Typically, we don't like to use or develop our core because it's not exciting or sexy and we would much rather fly to the top of a pull-up bar in a bar muscle-up by thrusting our hips to the sky and chicken winging our way up, or for the majority of people, we'd rather deadlift 1,000 pounds.
But, I want to offer you three reasons why you should do the unsexy, hungry butt stuff instead.
Gymnastics makes your core stronger, and with a

stronger, better utilized core

, you can improve literally every other thing you do in CrossFit (and life!). This means pull-ups, toes-to-bar, muscle-ups, yeah, but it also means front squats, power cleans, and even those precious deadlifts!

A stronger core also means you're more than likely being

safer

. Always complaining about your tweaked shoulder that you've been rolling and rolling but it's not getting better? Or that chronic low back pain? Start using more core and stop relying on your limbs to get the work done and you'll take some of the burden off those baby shoulders (and also ask your coaches what you should do to make it better and maybe go to Airrosti).

Gymnastics promotes better

body awareness.

The load you are moving in gymnastics is your own body, which means, you need to know how to move your body through time and space in the most efficient way possible. Better body awareness means better lifts and better times.
As always, everyday you come into the gym is an opportunity to improve. If you come into the gym and you do everything on the whiteboard that day with intentionality, you're going to see results. I guarantee it. It has been so exciting to hear people say how they have seen "all this hollow body work" improve their gymnastics, their lifts and how they feel it translating to lots of other stuff. Those results are why I do my job, and why I give it everything I've got week after week — because I want you guys to always improve and I want you to be excited about your own fitness. Keep up the good work, fam.
All my truest love,
Coach Becky