Coaches Corner with McKenzie: Open Gym and Drills Forever
Hey y'all! Unless you've been living under a rock, we're launching new Open Gym hours! Why are we doing this? Here are a few of those reasons:
First: Y'all have been screaming for them.
Second: As coaches, we tend to encourage everyone to get to class a little early, or stay a little late to work on skills you're having a hard time with. We know that isn't always possible, so we wanted to give y'all two more opportunities a week to get some drill work in.
There are lots of things that we could all be better at, and this is a really great and strategic opportunity to do so! Take advantage of the coach who will be staffing these extra hours — tap their knowledge of skills and drills and ways that you can work on very specific things. We are literally at your service, so use us!
Speaking of skills and drills, to give you some more ideas of what you could be working on, I'm going to let y'all in on where I personally need to grow and what I'm gonna be doing about it.
Gymnastics: Bar muscle ups
As a gymnast for 8 years, the glide kip is forever ingrained in my brain, and according to our BFF Dave Castro, gliding before kipping is not the CrossFit standard. To be considered a good rep, your toes cannot pass the line of the bar. In the video above, they show a hybrid of the glide kip, which is what I've reverted to doing, and is still not a true muscle up. So neither in this video are okay. Here are some things I plan to work on to help me retrain my brain:
Lat strength: as I kip, I need to rely on my lat strength as I push down on the bar after the hollow to get myself to the top of the bar, not my solely my momentum from the glide kip. To get better at that, I have been working on drills like this and trying to pull to my hips instead of my chest. That will help me better feel the push down on the bar as I move upwards.
Box push downs: Starting at 1:45 in this video, using a box to assist in getting me higher by the bar, but still allowing me to practice pushing down and away from the bar instead of pulling my chest directly to the bar.
Beat swings: Big, big, big kips, working on pushing down on the bar and almost laying backwards making sure I'm activating my lats and pressing down on that bar before trying to muscle my way to the top.
Weightlifting: Getting rid of my stripper butt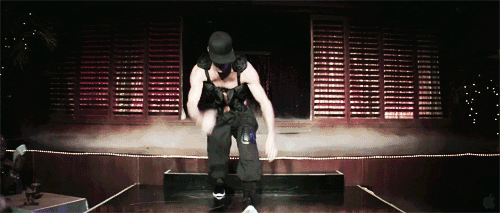 In most of my lifts from the ground, I tend to lift my butt first, and then the rest follows — instead of my shoulders and hips moving at the same rate. You might have heard this lovingly referred to as the Stripper Butt by some of our more colorful coaches. This happens on cleans, deadlifts, snatches…really anything from the ground, and it forces me to isolate just my hamstrings or lower back to do the brunt of the work, instead of utilizing my whole posterior chain! So here's what I'll work on to help fix it:
Halting clean complex: More specifically within this, I will be doing a lot of the first portion of this, the Halting Clean Deadlift. Because it will be light, I can focus on just that first part of the lift to right above my knees. As I'm working on this, I'm going to really pay attention to how engaged my hamstrings are, making sure my shoulders are moving when my hips do, and that I'm pulling the bar in towards my hips instead of having my hips meet the bar away from my body. We did this drill together not too long ago, but if you have questions, grab a coach and have them walk you through it!
Sotts press: This drill really improves stability in the bottom of an overhead squat, which will translate to stability in the bottom of a squat snatch. On top of that, it's great for shoulder and core strength, which is pretty great for everything else, let's be real.
And last but not least…squats, squats and more squats: I think I'm really going to focus on my back and front squat because those have never been as strong as I'd like them to be. As soon as I hit a higher weight, my knees cave in EVERY TIME, so I might even throw a theraband around my knees to remind myself to press them out. I also want to focus on shifting my weight back more towards my heels, and keeping my core way tighter than I usually do.
Aerobic Capacity and Metabolic Conditioning Y'all, running is really hard for me, and I've wanted to get better at being comfortable with it for a long time. I want to eventually run the 10k, but I want to do a 7k one or two more times before I go for the 10. So…maybe every time I come to Open Gym, I'll run a mile as part of my warmup and cool down. Start small, and work up to getting in a mental space to run a 7k probably by myself (unless any of you crazies want to join me).
There you have it guys! As you can see, even coaches have plenttttyyyyy to work on! If you aren't sure what your weaknesses are, or what drills you should do to get better at them, ask us. We are there to give you tips and tricks and drills and everything you need to eventually master those skills. We are excited to see how you all improve!