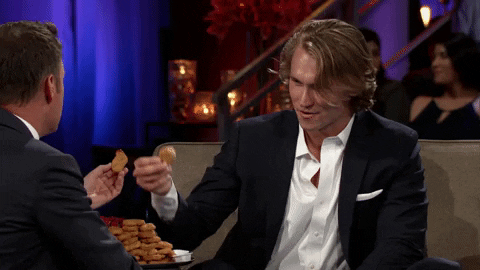 I hear this all the time:
"I wanna eat clean and set myself up for success, but I'm just so tired and hungry when I get home from work so I just grab whatever's the easiest… which is usually cereal or chips."
First, let's all agree -- cereal and chips are delicious. Why wouldn't you grab them first? But like most things, healthy nutrition isn't so black and white.
Our lifestyles influence our habits, our habits influence our choices, and our choices -- our results. So if you're a busy person who knows that #mealprepsunday sounds idyllic but just ain't gonna happen for you, yet know you won't achieve your goals on chips and cereal alone -- what do you do?
Y'all, our freezers aren't just for ice cream and 1,000 brown bananas that you'll maybe one day think about making banana bread with. And not all packaged foods are sinister. Check out a few of my favorite freezer foods that are pretty clean and quick to prep:
Any of Wal-Mart's Whole30 Approved Freezer Meals
These bowls are not only flavorful, but packed with protein and veggies. Throw them in a pan, add a fried egg on top for a little more sustenance and voila -- a fast and furiously nutritious meal.

Costco/Trident Wild Alaskan Salmon Burgers
A super easy protein source for those of you who don't like dealing with raw fish -- here are two ways I like to eat these patties:
Pan fry, chop, and throw in a bowl with rice, sesame seeds, seaweed chips, cucumbers, and pre-julienned broccoli slaw with whatever Asian-inspired dressing tickles my fancy.
Pan fry, and stack on top of all my favorite burger fixings with a hearty bun and a salad on the side.
Frozen Chicken Nuggets (hear me out)
Chicken nuggets aren't just for kids, you know. There are a few brands who do nugs right -- and the macros are almost too good to be true. If you're at Costco, check out Golden Platter's big bag of nuggets (HEB sells them, too). Otherwise, Applegate and Everyday Value 365 has some tasty options. 
Garden Lites Veggie Cakes
I love these little cakes for breakfast (or breakfast for dinner!). Served with a protein/fat source of your choosing (eggs, bacon, sausage, yum) -- you've got a super fast and easy balanced plate.
Costco/Coleman Organic Chicken Meatballs
Okay technically not *frozen* but these are another killer Costco find. These balls come in 2lb packages so you can feed your family in one fell swoop. For the fastest possible way to eat these -- grab your favorite jar of red sauce, spiralize some zucchini and toss it all in with your favorite noodles for a very easy spaghetti and meatballs. 
Need more freezer meal ideas? I've got plenty. Shoot me a note -- [email protected]. 
--
If you read this and you're still not convinced, let's talk about it! My inbox is always open -- [email protected]. 
Lauren Bratcher is NASM Certified and a long time nutrition-enthusiast. As CrossFit Renew's Nutrition Coach, she believes that something as fundamental as nutrition shouldn't have to be complicated and is passionate about helping people take control of their personal nutrition journeys.